On horizontal cartoning machines, the product is inserted from the side of the carton. These cartoners can operate in continuous or intermittent mode, with the option of automatic lateral loading of the product into the carton, and closure of the ends by hot-melt application or flap insertion. Horizontal cartoning machines are commonly used in the packaging of food products such as pizzas and cakes, vacuum-packed rice or coffee, cereals, etc.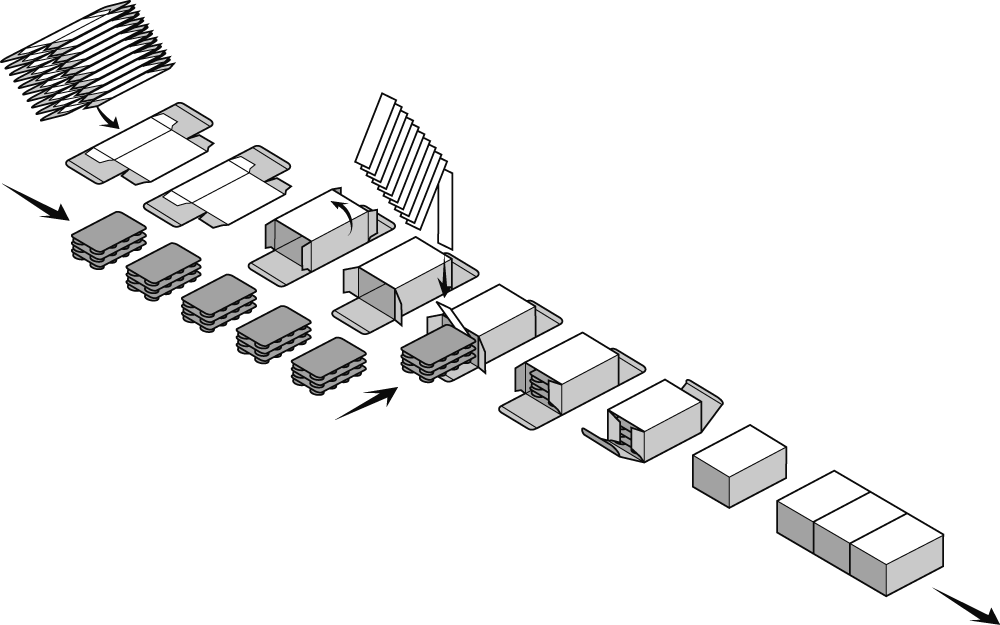 This machine completes product insertion, leaflet insertion, and production batch & expiry date coding in one run. Also equipped are malfunction warnings for fail-safe packaging processes. It is labor-saving, and suitable for pharmaceuticals, ointment or cream tubes, cosmetics, hardware, stationary, etc.
The machine runs stable and provides easy changeover for different sizes of cartons. It can fold leaflets, open cartons, insert the products and leaflets into cartons, emboss, tuck-in, or hot-melt closures and automatically discharge cartons. 
The machine is equipped with a series of sensors and automatic protective devices to assure the machine runs safely and effectively.
It can connect with Tube Filling Machine, Blister Machine, Pillow Pack Machine, Overwrapper, etc., to form a Production Packaging Line.
Main units of this Cartoner:
Gear Device: The gear drives the carton conveyor chain and blister conveyor chain running in intermittent motion.

Carton Conveyor Chain: The carton conveyor chain is used to transfer opened cartons to every station, which can automatically complete the actions of inserting of blister cards and leaflets into cartons, embossing, closing cartons, and discharging cartons.

Leaflet Conveyor Chain: The leaflet conveyor chain is applied to send folded leaflets to the blister feeding station then the leaflets and the blister cards are inserted into cartons together.

Carton Pick-Up Device: The carton pick-up with one set of suction cups can suck the cartons from the carton magazine, open the carton, and place it on the carton conveyor.

The Leaflet Folding Device: The leaflet folding device can make the leaflet fold one to four folds according to customer's demand.

Inserter Device: The inserter device can push the blister cards into the carton in intermittent motion.

Carton Magazine Device: Adopt a long carton magazine for approximately 1000 cartons.