Industries across the country rely on bottle filling and capping machines to get products to destinations. At BIAOZAN, we have bottle filling capping equipment to fit your company's needs based on your operational capacities and production outputs.
If your operations still rely on manual workers who are filling and capping by hand, consider the automated possibilities from Biaozan. An automated bottle filling machine doesn't require breaks throughout the day. The liquid bottle filling machine can work with various liquids in a safe manner. Then, the capping machine can ensure the lids are fastened securely for shipment. In addition, our machines perform changeovers effortlessly when switching to different-sized bottles.
Filling machines are machines in the packaging industry used for filling liquids, gases, paste, or powder into containers. Capping machines are used to cap the bottles filled with material. So here we develop a system to demonstrate the filling as well as the capping system used for bottles in industries using PLC and mechanical assembly. The system makes use of filling using a piston and syringe arrangement along with a capping system using a motorized arrangement all integrated into a single machine. The entire assembly consists of a conveyor that pushes empty bottles towards the filling head.
The filling head is responsible for filling bottles with water, later this assembly pushes the bottle into a circulating disc, which brings it to the capping station that places a cap on the bottle. The bottle reaches the cap turning station which is a motorized arrangement responsible for spinning and tightening the cap on bottles. After this step, the assembly pushes the bottle over to the next point where it is rolled down the system as a finished product. We use a PLC-based system to control the entire system working using sensors and motorized assembly.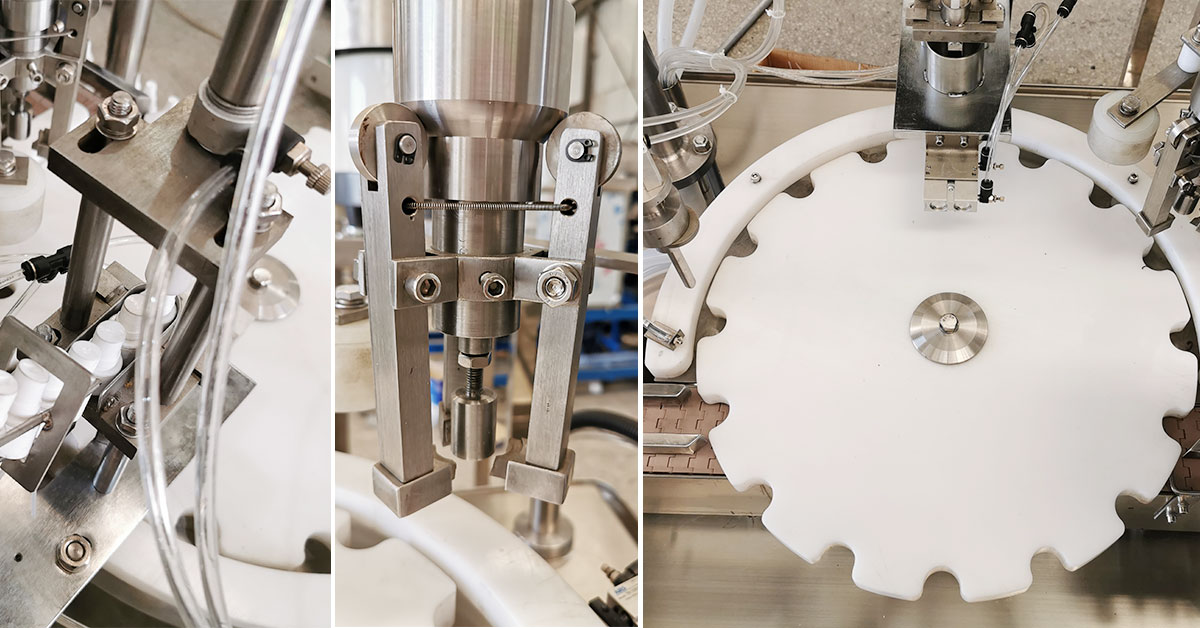 Fulfilling Manufacturing Needs in Bottle Capping Machine Equipment
Industries we have provided bottle filling and capping machine capabilities include chemical, agrochemical, petrochemical, paints and coatings, food, and vegetable oils. Each company has varying specifications and needs based on the manufactured liquids' characteristics. You require the equipment that can pull these liquids from processing vats and place them into bottles of varying sizes rapidly and with accurate weight consistency.
We handle all types of liquids with bottle filling and capping systems:
Chemicals: Detergents, polymers, solvents, disinfectants and cleaning products
Foods: Sauces, syrups, vinaigrettes and mayonnaises
Paints and Coatings: Paints, coatings, glues, sealants, resins and inks
Vegetable Oils: Virgin oils and refined oils
Agrochemicals: Fertilizers, pesticides, insecticides, fungicides and herbicides
Petrochemicals and Lubricants: Coolants, lubricants and windshield washers
We can also fill bottles with viscous, foaming, flammable, and aggressive liquids while maintaining optimal performance during short- and long-production runs. Biaozan can provide your company with an automatic bottle filling machine, semi automatic system, and turn-key solutions to increase production and increase your profits. Our bottling machines will fill the shape of the desired bottle by weight, based on your specifications.
BIAOZAN Bottle Filling and Capping Machine Solutions
Whether you need a single bottle filler or a fully automatic turn-key line, Biaozan can design and build the filling and capping machine you want. We have 1,000-plus machines available and filling lines worldwide. No matter where your operations are located, we can provide you with a solution. Our machines can adapt to any size and shape of a bottle that needs to be filled and capped with your processed liquids.
Let us meet your production needs today and into the future. Contact Biaozan when you require a bottle filling system or customized bottle capping machine to fit into your current operations.