The automatic hot melt glue carton box packing machine is suitable for food, bottle, cosmetics, pouch, cartoning blisters, injections, medicine, condoms, tubes, ointment, and wrapped products.
Introduction for Automatic Hot Melt Glue Carton Box Packing  Machine
The machine finished running by a series of photo-electric controllers to make the machine stable and guarantee the packing quality. It includes 1 to 4 folds leaflet automatic folding, cantons in suction and open, products and leaflet put into, printing batch number, sealing, or option hot-glue device. The machine can be single-used or linked with Filling Machine, Blister Packing Machine, Shrink Machine, and Three-Dimensional Packaging Machine to form a production chain.
Features of Automatic Hot Melt Glue Carton Box Packing Machine
International famous brands of electrical components such as PLC touch screens, frequency inverters, etc.

Adopt a human-machine operation system.

Automatically displaying devices for trouble, speed, and finished product counting.

Machine running without pressing if no products or incorrect position of products. And stops automatically if the incorrect position of the product in the carton after return or no cartons or leaflets continuous.

No products, not suction leaflet, no leaflet, not suction carton.

Automatic detection and rejection device for lacking blister goods and leaflets.

Protecting automatically from overloading.

Stable performance, operation is easy.
Steel type wheel of automatic hot melt glue cartoning machine
Insert products into box by the hot melt glue cartoning machine
Description of the Nordson MESA adhesive melter
Nordson MESA adhesive melters are used in conjunction with Nordson hot melt hoses and applicators to create a hot melt application system.
The melter liquifies solid‐form hot melt and maintains the hot melt at the desired temperature. When the applicators are activated, the melter pumps the liquified hot melt through the hoses and out the applicator nozzles, where it is commonly applied to the surface of a product or package.
System Components
1) MESA melter
2) Hot melt hose
3) Hot melt Applicator
Intended Use
MESA melters are specifically designed to:
1) Melt and pump solid‐form hot melt materials that are engineered to be liquified and extruded at temperatures below 230°C (450 °F)
2) Be used with compatible hot melt hoses and applicators that are manufactured by Nordson Corporation
3) Be used in non‐explosive environments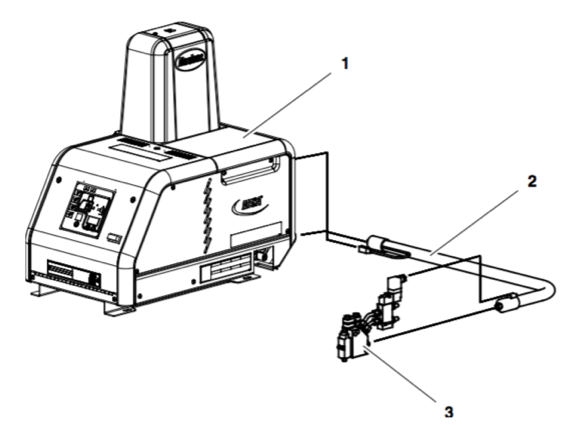 Use MESA melters only for the purpose for which they are designed. MESA melters should not be used
1) to melt or pump polyurethane reactive or polyamide hot melt materials or any other material that creates a health or safety hazard when heated
2) in environments that will require the melter to be cleaned using a water wash or spray
MESA melters operate in the following modes:
1) Automatic scan—The melter automatically checks and displays the current temperature of the tank, hoses, and applicators to confirm that they are within their pre‐defined temperature range. By default, the melter is always in the automatic scan mode unless it is placed into another operating mode.
2) Standby—The temperatures of the tank, hoses, and applicators are reduced down from their operating temperature (hereafter referred to as set‐point temperature) by a pre‐set number of degrees.
3) Setup—The setup mode is used to configure melter control options and features and t