Automatic cartoning machine is set to light, electricity, gas, and machine integration of high-tech products. Applicable to capsules, tablets blister forming, the outer packaging is Alu-PVC blister, bottle-shaped, ointment, and similar items of automatic cartoning. The working process of the medicine Blister or goods transfer (a time one blister and multi blister adjustable); drug leaflet transmitted (1-4 fold automatic fold feeder); automatic carton distraction and transmission, medicine blister joint folded good specifications and carton boxes; and complete the automatic batch number, at both ends of the paper plug sealing complex packaging process. 
The machine is used in all high-quality stainless steel cover panels enclosed by glass doors and windows, in strict accordance with the pharmaceutical industry "GMP" standard for innovative design. In the transmission part of the design of the overload protection function, and setting up the emergency stop device, the control system adopts the man-machine interface screen, ensuring the safety of the operator.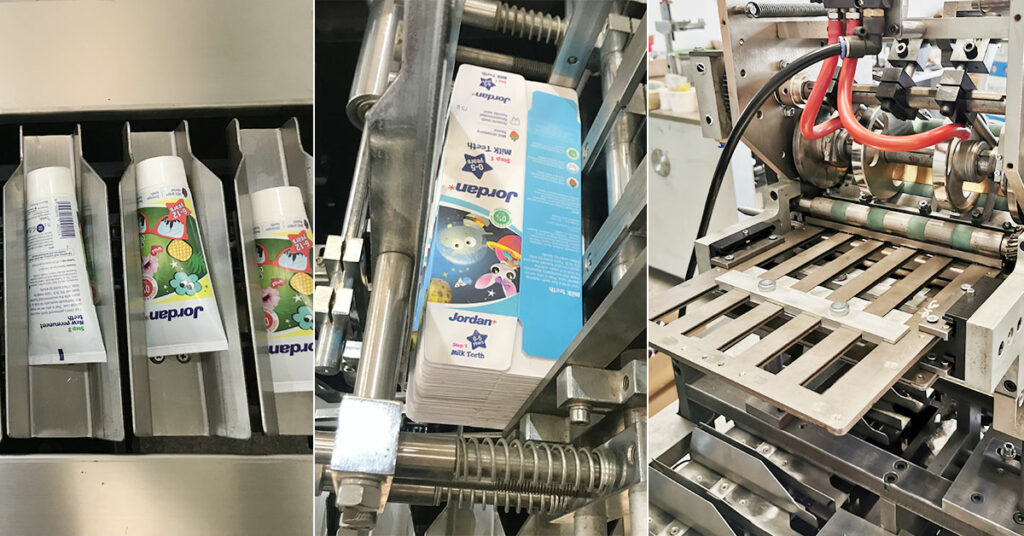 Features
1. It can automatically complete the folding of the manual, carton forming, opening, block packing, batch number printing, sealing, and other work. It can also be equipped with a hot melt adhesive system to complete the hot melt adhesive seal.
2. The machine is controlled by PLC. Photoelectric monitoring of the action of each part, if there is an abnormality during operation, it can automatically stop and display the reason, so as to eliminate the fault in time.
3. The main drive motor is installed inside the frame, and each part of the transmission system is equipped with torque overload protectors, which can realize the disengagement of the main drive motor from each transmission part under overload conditions to ensure the safety of the whole machine.
4. The machine is equipped with an intelligent detection device. Automatically no instructions and no cartons if there is no material, which is convenient to work in conjunction with the previous equipment. In the process of testing, waste products (no drug version, instructions) are found to be rejected at the exit to ensure that the product quality fully meets the qualified requirements.
5. The machine can be used alone or in conjunction with blister packaging machines and other equipment to form a complete production line.
6. The machine can change the packaging specifications according to the different requirements of users and is easy to adjust and debug. It is suitable for the production of a single variety in large quantities, and can also meet the needs of users in the production of multiple varieties in small batches.